Since we are now in to March I thought I'd just share some of the things that I have been enjoying over the past month.
Essence Lipsticks
I love lipsticks a lot, they have to be the beauty product that I have the most of. And in my collection, a large number of them are from Essence. They are all really good quality and have some cute colours and the best part is that they're all around the £2 price mark!! Here in the UK, the easiest place to find Essence is is Wilkinson.
Sleek 'Face Form' Contouring and Blush Palette
One of my other go to make up items has been
this
Sleek palette. It's really handy as it has 3 products in 1, a blush, highlight and contour/bronzer. I've always been a bit wary of contour as my skin is very pale but this shade works for me. The blush is cute, it's pink but also has a golden shimmery tone to it. This also comes with a mirror which is very useful!! Sleek are really good value, maybe not quite a budget brand, but this was £9.99 so is fairly affordable.
719 Walnut Avenue Candle in 'Peach Daiquiri'
First of all, just as a note, I never actually light my candles so that's why it looks like it hasn't been used, as it hasn't :P This candle is strong enough though that I can still benefit from having the amazing scent. I don't even know how describe it really, it's pretty magical. Definitely not a good choice for people that hate sweet and sickly scents though!
I found this a few weeks ago in Home Bargains for around £2/3 and they had 3 others that seemed to be in a range, they were all tropical sorts of scents, like there was a pina colada one as well from what I can remember. Other than that the only places I have seen them is on eBay or Amazon (If you're in the US, apparently Walmart stock the brand), but for a higher price unfortunately.
Neko Atsume: Kitty Collector
If you haven't already heard, Neko Atsume is a game app, and essentially the aim is as it says... you just collect cats!
You have a virtual garden, where you place toys and food to attract cats. The more interesting toys and food you have means that you will get the more rare of the cats. It probably sounds silly, but I still find my self checking in periodically each day to see how my group of kitties are doing. I even got my cousin into playing it and I now get updates on his cats too :P
Walk The Moon
I've been a fan of Walk The Moon for a while now, probably around 4 years. So technically they're not just a February favourite, but never mind.
Despite loving them for so long, I had never actually had the chance to see them live for a full show until a few weeks ago. (I was in the audience to see them perform a song on a UK TV show last year, and got to chat to them a few times during the day which was very cool but alas, no concert.)
They played at the Institute in Birmingham last Tuesday night and I finally managed to get my chance. I went with my lovely friend Emily, we got there pretty late at 6.30pm considering the doors would open at 7 but there wasn't actually too much of a queue. There was no rushing like I was used to going to standing concerts when I was a teen, we had plenty of time to use the cloakroom and look at merch and still be able to go into the crowd comfortably. Since I have been struggling recently with being able to stand, we sat down by the bar for a while, and when the support act (Colony House, they were also pretty cool) was on I was able to lean on shelves they had at the edge of the venue. I did go back into the crowd when they came on but luckily I had support from my walking stick and the fact that we were stood right next to a massive pillar. They were really really good and I was so sad when it came to an end :( :( I got to meet them again afterwards which was really nice, they are all so lovely and kind and made sure to talk to all of us that were waiting, there were hugs and pictures too :)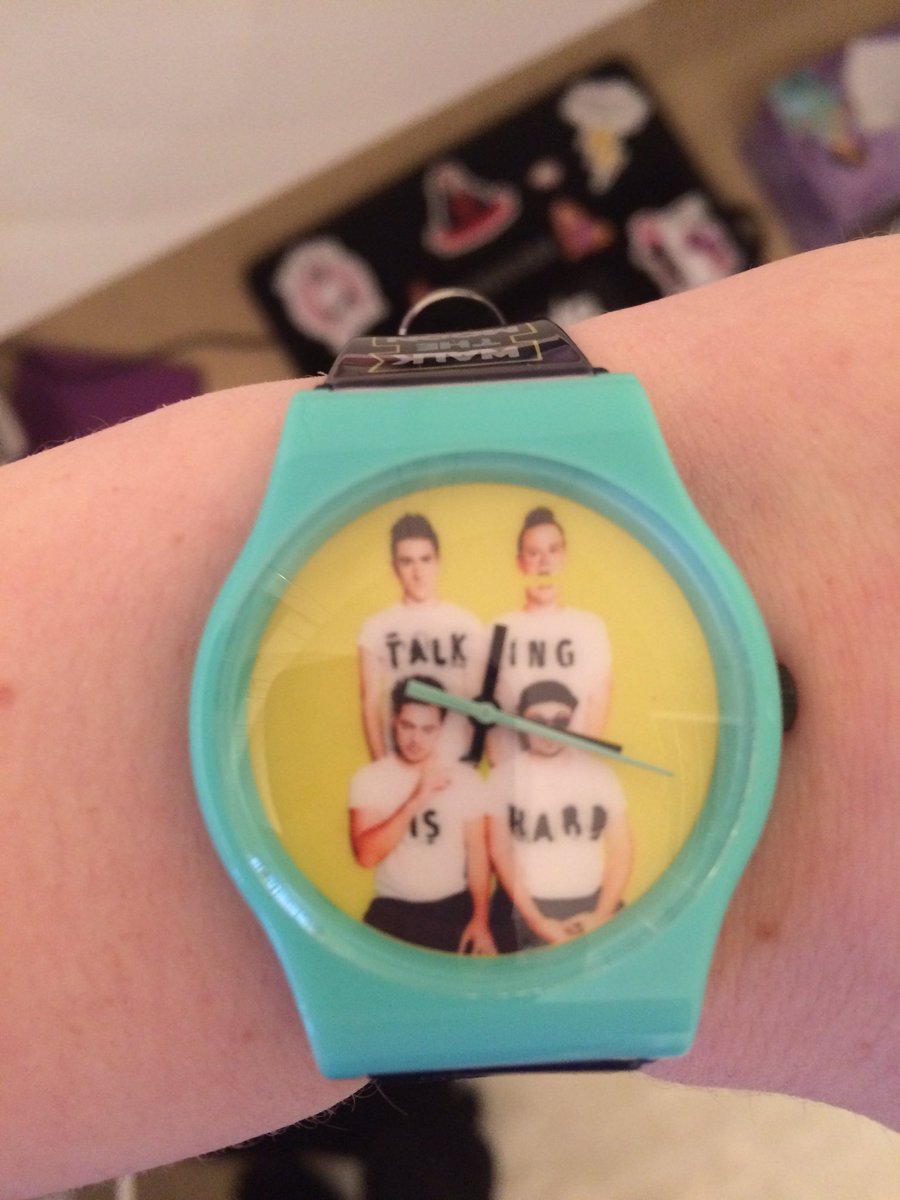 This is the watch I got from their merchandise stand!
If you haven't heard their songs before I thought I'd just link to a few of my favourites...
And just as a last favourite..
My Walking Stick
I recently decided that I'd maybe benefit from some kind of walking stick since I have been struggling more and more with pain and weakness in my legs & feet. I don't really have any pictures as it's quite awkward to photograph but basically it is a fold-able metal stick that's purple and glittery (I have also added a few Frozen stickers to decorate :P) so is aesthetically pleasing as well as functional. It was around £12 which I think is fairly cheap, and is of good quality, and also comes with a bag to keep it in and a little clip to keep it together when folded.
Thanks for reading!